Retreats are a deep aspect of And Also Too's culture. As an online studio with team members scattered across Canada and the US, seeing each other in person is always special—a rare and precious time to hangout beyond the digital worlds of our screens. Previous retreats have found us against the backdrop of breathtaking rural Vermont, or foraging goodies in lush High Park.
Among so many other things, the COVID-19 pandemic disrupted the possibility of an in-person retreat. But it certainly didn't disrupt our determination to celebrate, dream, grieve, and plan together for the year ahead. This past January, we held our first ever online retreat. Read below for the six steps we took to make sure it was as magical as our previous times in physical space.
Step 1: Never underestimate the good ol' agenda.
As co-design facilitators, we sure love our agendas! For our two-day retreat, we created a thematic agenda outlining all the activities ahead. We spent Day 1 looking backwards: hearing stories about And Also Too's founding, sharing memories of 2020, and assessing the sustainability of our studio. Day 2 was spent dreaming and building forward: mapping our needs for 2021, discussing the general direction of our studio, and planning for an upcoming identity redesign. If you're curious, you can take a look at our agenda here.
When creating your agenda, we suggest including the goals, duration, and facilitation tools you'll need to carry each activity. Treat the agenda like your master guide, from where you can access all the files you will need to move through the retreat (facilitation boards, worksheets, documentation to review, etc.).
It's also helpful to anticipate what steps should happen post-retreat, as a result of every activity. In this way, you won't have to process a long chunk of notes, and you can get directly to the creation of specific documents, artifacts, or commitments. During our online retreat, we discovered that, while we had been great at navigating 2020 from a place of care, we had been less great at doing so from a place of joy. For 2021, we are committing to carving non-work time for all of us to slow down and have more fun (read more below on Step #5).
Step 2: Create team rituals.
We began our retreat with a toast with our And Also Too mugs, a gift we had received to celebrate the completion of a project in 2020. During this toast, we made space to remember, grieve and celebrate everything that the previous year had in store for us. 2020 was not business as usual, and we continued to build space to acknowledge that. Engaging in rituals helps us humanize the digital spaces we inhabit every day, so we can care for each other, tend to the hardship and re-traumatizing effect of doing liberatory work, and open up to joy.
A ritual doesn't need to be complicated—it only needs to be meaningful and relevant to you and your organization. Be sure to check-in with your team about the kinds of activities they would like to participate in—our relationships with rituals will look different depending on our faiths and cultural backgrounds.
Step 3: Invite a guest speaker.
We opened our retreat reflecting on the seeds we have planted together with our studio partners and collaborators over the years. For this, we were honoured to have Laura Arndt from Feathers of Hope come join us as a guest speaker. Laura reminded us that powerful, liberatory design is about collaborative processes as much as it's about beautiful craft. She spoke about what we do as solidarity work. Stay tuned for an upcoming blog post with reflections on her visit.
Inviting a trusted partner to reflect on a past or present collaboration can be a great way to reconnect with your organization's history and growth. While we had prepared some interview questions (which we emailed Laura in advance), we recommend keeping it casual, and letting the conversation flow. Be sure to offer your guest(s) an honorarium or gift as a token of your appreciation for their time.
Step 4: Cook something yummy together.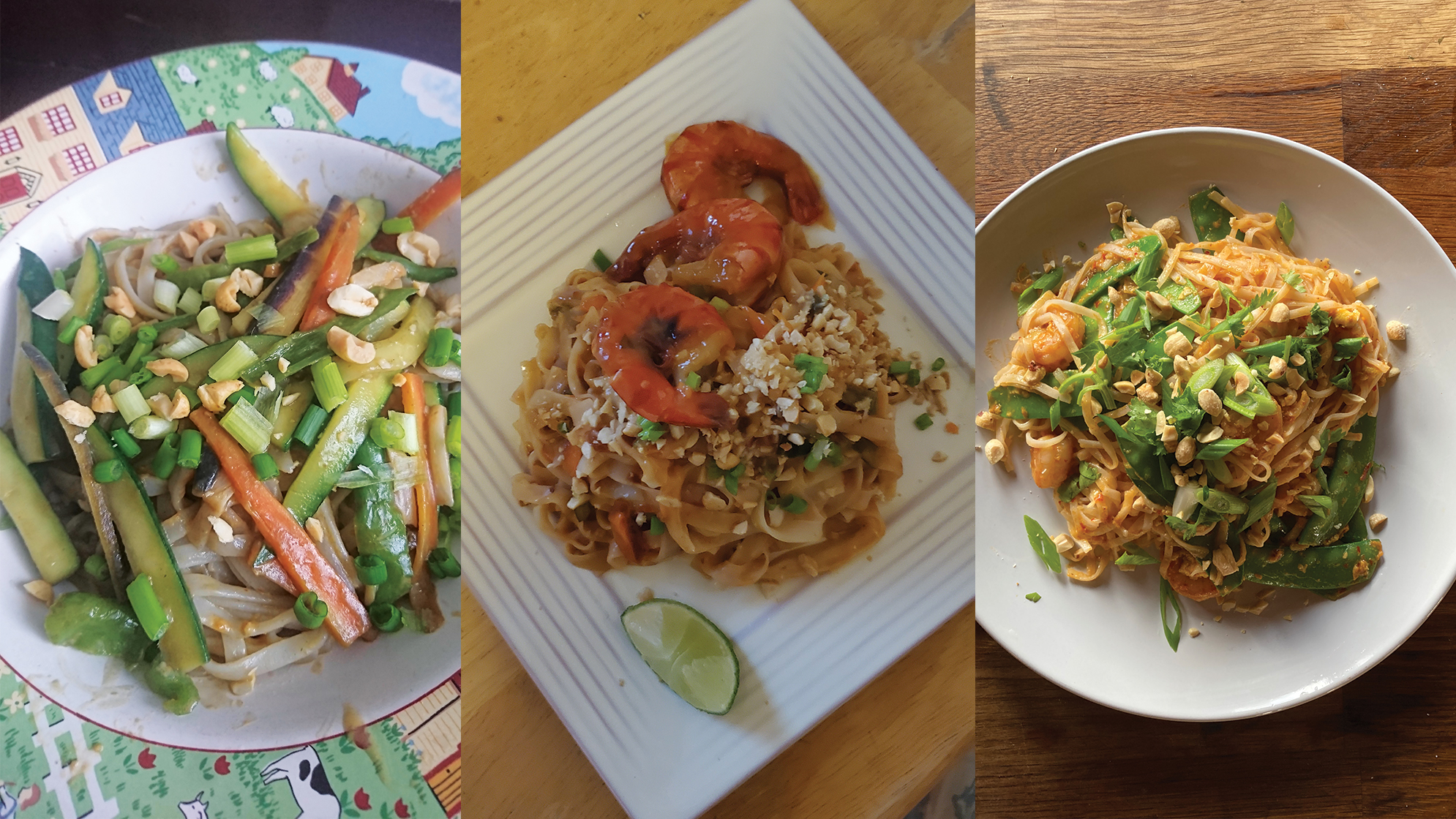 Let it be said again and again: there's nothing like cooking and eating together. This is a lesson from previous retreats that we couldn't leave out, even if this time we were unable to be in the same kitchen. For our online retreat, we chose a recipe together and got the same groceries delivered to our homes a few days in advance. We installed our laptops and cellphones on our counters and made a delicious pad thai together, sharing cooking tips and stories with each other.
We recommend choosing a recipe that is relatively fast to make (we took roughly 30 min between starting to chop our veggies and serving our dishes). When proposing a recipe, choose a meal with ingredients that are low-cost and easy to access, and don't forget to consider any dietary restrictions folx might have.
Step 5: Make space for fun.
By far, our favorite part of this retreat was making space for arts and crafts activities! We transformed glass containers into beautiful, clay-like vases, using nothing but baking soda and paint. We also made wall art with materials salvaged from our recycling. Lastly, we each received an embroidery kit and watercolor paint stones to use in future activities. This was the start of a group commitment to more joy and fun in 2021. We'll be taking time to hang out outside of the headspace of work, as a way to refill our creative and spiritual cups.
For this one, the sky's the limit! Create a list of fun activities you and your team would like to try, and set time aside to meet on a regular basis (we suggest a monthly meeting). For arts and crafts activities, make sure to pick materials that are free/from your recycling whenever possible.
Step 6: Take time to appreciate each other.
We closed our retreat by writing (and later mailing) handwritten letters of appreciation to each other. This is a deeply personal and intimate piece that we include in every retreat we hold. While it can feel intimidating to do at first, try not to skip this step! During these extra difficult times, expressing our gratitude to each other and everything we do to make our shared spaces a reality, becomes all the more important. A heartfelt message can be a graceful reminder that, beyond the ubiquitous space of the screen, we are appreciated, cared for, seen.